Led for the past 17 seasons by dynamic music director Benjamin Simon, the San Francisco Chamber Orchestra is a tightly-knit ensemble comprised of the best musicians in the Bay Area. Combining excellence with accessibility, our full season of over 36 performances is admission-free, presenting classical, contemporary, and commissioned works to audiences of all ages and backgrounds around the Bay Area.
Our MainStage Concerts, performed in major venues in San Francisco, Berkeley, and Palo Alto, feature our full orchestra (up to 36 players) and world-class soloists in creative programs designed to appeal to seasoned concertgoers as well as those new to classical music. Interactive musical demonstrations during the concert provide opportunities to deepen one's knowledge and experience the music more fully.
Equally dedicated to educating the next generation of music lovers, the SFCO presents 45-minute Family Concerts and 20-minute Very First Concerts in churches, community centers and libraries in San Francisco, Oakland, Berkeley, San Mateo, and Burlingame.
Experience the intimacy of a great chamber orchestra—thrill to the work of great composers from Baroque to brand-new—enjoy our relaxed atmosphere and seeing musicians who are clearly enjoying themselves—wear your blue jeans or your pearls, and clap whenever you want to! We're different because we believe classical music is exciting, vibrant, and fun.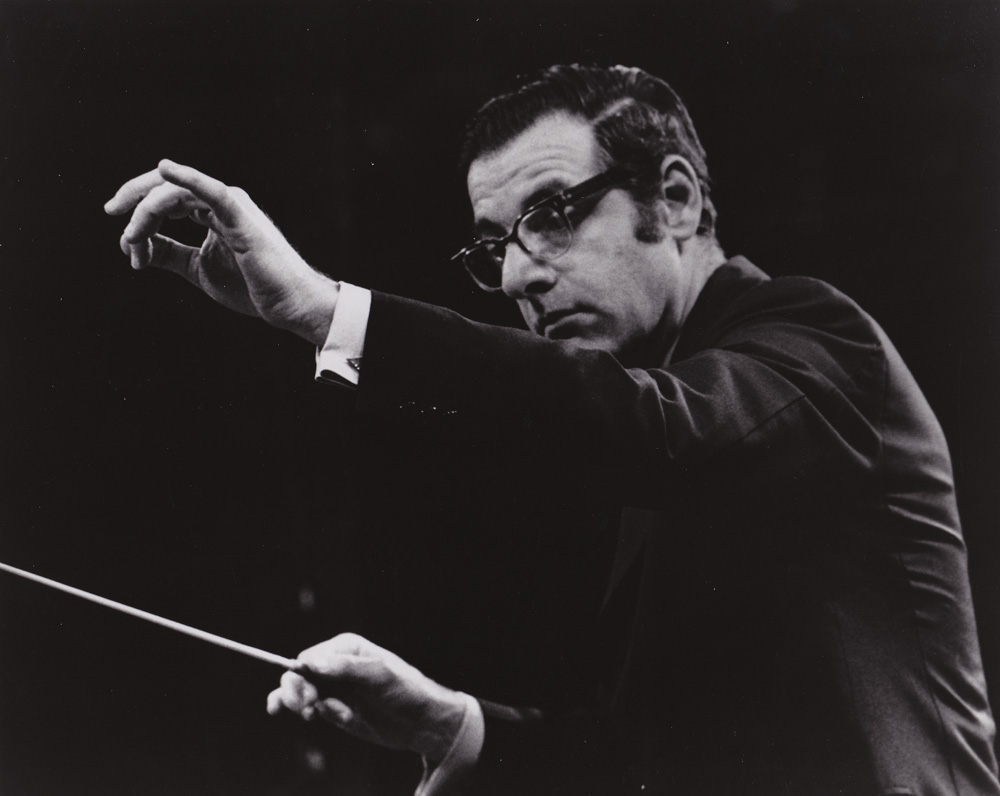 "If you want to conduct, you will have to start your own orchestra."
Pierre Monteux to Edgar Braun
Founder Edgar Braun
In 1952 a nineteen-year old UC Berkeley violinist, Edgar Braun, spent the summer studying with conductor Pierre Monteux at his famous music school in Maine. When Monteaux offered to recommend him to be the Assistant Conductor of the Minneapolis Symphony, Braun hesitated. Monteux then said, "If you want to conduct, you will have to start your own orchestra." Braun came home and in 1953 with his friend Adrian Sunshine, founded the San Francisco Chamber Orchestra.
The orchestra's first concert was in April of that year at Berkeley's Hillel Foundation. In those days, the San Francisco Symphony was very much a part-time gig, and many SFS musicians were glad to take part in these early SFCO concerts. Maestro Braun took sole directorship of the ensemble when Sunshine departed for Europe in 1958 and led the orchestra through thick-and-thin until Benjamin Simon was appointed Music Director in 2002. During Braun's more than forty years leading the SFCO, he conducted over 600 concerts in venues throughout California, founded the Lake Tahoe Summer Music Festival, started the "Twilight Series" at the M.H. de Young Museum, and presented several generations of Bay Area musicians as soloists and ensemble players including Simon who was hired for his first professional solo engagement by Braun in 1975.
Braun, a violin and conducting student at the University of California at Berkeley, had also majored in business administration upon the urging of his parents to, "have a career to fall back on." He graduated Hastings Law School and entered a career practicing tax law, but music remained Braun's true love. By his death in 2002, he had conducted orchestras in 16 countries while running a successful law practice, raising a family in Berkeley, and leading the San Francisco Chamber Orchestra.
In January 2002, Benjamin Simon became the SFCO's second Music Director. A violist by training and a chamber musician at heart, Maestro Simon is a San Francisco native whose career as a chamber and orchestra musician has led him through New York City, Buffalo, and Los Angeles. A playful innovator, Simon has ensured the orchestra's relevance in a constantly changing environment while staying true to Braun's vision of providing first-class, live music performances that are accessible to the community at large. The SFCO is now recognized as one of the premier chamber orchestras in the Bay Area, serving thousands of audience members of all ages and backgrounds every year with four MainStage Concerts—each performed in San Francisco, Berkeley, and Palo Alto—three Family Concerts—each performed in San Francisco, Oakland, and San Mateo—and two Very First Concerts for our youngest listeners, a collaboration with Berkeley's Crowden Music Center.
Ben Simon
Ben started conducting in high school under his teacher Denis DeCouteau, beloved leader of the Oakland Youth Orchestra and the San Francisco Ballet Orchestra.

His hobbies include swimming, yoga, and collecting viola jokes.
Ben has performed for audiences around the world as violist of the Naumburg Award-winning New World String Quartet, the Stanford String Quartet, the Orpheus Chamber Orchestra, and the Los Angeles and New York Philharmonic Orchestras.
A native of San Francisco, Ben began his conducting studies in the Bay Area with Denis DeCouteau, continuing at Yale College and the Juilliard School with Otto Werner Mueller and at the Aspen Music Festival with Dennis Russell Davies. Ben has led orchestras and contemporary ensembles in the United States and Europe, and conducted performances for the theater as well as soundtracks for major motion pictures. He has taught at Harvard and Stanford Universities and has been a member of the music faculty at UC Berkeley since 1998.
In 1988 he joined the Naumburg-Award winning New World String Quartet, performing over eighty concerts a year in major venues and summer festivals in the United States, Europe, and Asia. The quartet recorded extensively for MCA Classics; they won a 1991 Grand Prix du Disque for their recording of the string quartets of Debussy, Ravel, and Henri Dutilleux. The New World SQ was quartet-in-residence at Harvard University and performed with artists David Soyer, Raphael Hillyer, Ursula Oppens, Gilbert Kalish, Donald McInnes, Joel Krosnick, Harold Wright, David Shifrin, Carol Wincenc, Christopher O'Riley, John Perry, and James Tocco.
BMI Foundation Composer-in-Residence
Michael Gilbertson
Composer-in-Residence
• Michael moved to the Bay Area in 2017 and holds a faculty position at the SF Conservatory of Music
• He has written three works for the SFCO: Graffiti (2018), The Beautiful and the Good (2018) and Jigsaw (2019). He is currently working on Denial, a major work to be premiered by the SFCO, Volti, and the Piedmont East Bay Children's Choir on our April 2020 MainStage concert set.
"The BMI Foundation is committed to supporting the creation, performance, and study of music through awards, scholarships, grants, and commission."
The San Francisco Chamber Orchestra is extremely grateful for the generous support of the BMI Foundation for our Composer-in-Residence Michael Gilbertson. The BMI Foundation was founded in 1985 and is committed to supporting the creation, performance, and study of music through awards, scholarships, grants, and commission.
Michael Gilbertson is the BMI Foundation Composer-in-Residence with the San Francisco Chamber Orchestra and teaches at the San Francisco Conservatory of Music. He holds degrees from The Juilliard School of Music where he studied composition with Samuel Adler, John Corigliano, Christopher Rouse, and from Yale, where he studied with Aaron Jay Kernis, Martin Bresnick, David Lang, Ezra Laderman, Hannah Lash, and Christopher Theofanidis.
Gilbertson's works have been programmed by the Minnesota Orchestra, Pittsburgh Symphony, Washington National Opera, Albany Symphony, San Francisco Chamber Orchestra, Grand Rapids Symphony, River Oaks Chamber Orchestra, Symphony in C, New England Philharmonic, Cheyenne Symphony, Juilliard Orchestra, Yale Philharmonia, Sioux City Symphony, Dubuque Symphony, Michigan Philharmonic, Lafayette Symphony, Waterloo-Cedar Falls Symphony, Aspen Contemporary Ensemble, and professional choirs including Musica Sacra, The Crossing, and The Esoterics.
In March 2016 he was Musical America Magazine's featured Artist of the Month. Gilbertson's opera Breaking, a collaboration with playwright Caroline McGraw, was commissioned by the Washington National Opera and premiered at The Kennedy Center in November, 2013. He has twice composed and conducted ballets for the New York City Ballet's Choreographic Institute, working with choreographers David Morse and Daniel Baker. His fifth ballet, a collaboration with choreographer Norbert De La Cruz, was premiered by the Aspen Santa Fe Ballet in July, 2013.
Board & Staff
Executive Committee
Vanna Shir, President
Reyhaneh Eghbali, Secretary
John Houghton, Treasurer
Board of Directors
Constance Bernstein • Norman Bookstein • Josh Elkes
Ken Hoffman • Natasha Makhijani • Anne Wellner de Veer
Emeriti
Justin Simon • Kathie Sollers
Staff
Darcy Rindt, General Manager
Julie Kanter, Institutional Gifts Manager

Corinne Rydman, Office Coordinator

Bill Beckerman, Accountant

Greg van der Veen, Stage Manager

Dona Kopol Bonick, Photography
We are still rehearsing this section. Stay Tuned!
Headshots and bios for the amazing humans of our orchestra coming soon.